Another fun thing we did was go to NW Trek...it is about 1 hour south of Tacoma...
I have been to zoo's before, but this was GREAT! We had so much fun. If you haven't heard of it, you should check it out:
http://www.nwtrek.org/

I won't post all the animal pictures, but we did see the northwest animals: bears, elk, caraboo, skunks, racoons, bison, deer, mountain goats, beaver...ok, it was a zoo...but the atmosphere made it fun.
One story to share:
We were looking at the cougar and Ryan was in his stroller wheeled up to the lookout. We were all looking at the cougar when we heard a bit of a splash. Looked down and found that Ryan had kicked his shoe into the cougar's water pond. Ryan gave a little "Uh Oh". Everyone around us kinda stared at the shoe. We figured we better go to tell someone who worked there. We told them and they said they didn't think they could get us the shoe back but they needed to go get it, as the cougars would eat the shoe. The rest of the day Ryan kept searching the ground and calling, "SHOE...Shoeeeeee..."

Ok, enough of the boring stories, here are the pictures: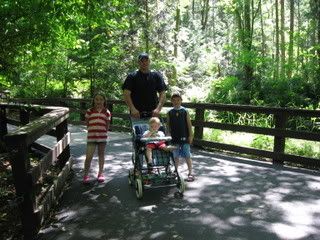 After the NW Trek...we headed to Tacoma for a visit with Danielle and Brian...unfortunately I didn't take any pictures. We were too busy talking, I guess! We had a great evening with them, and an even better dinner. (Brian makes a mean burger if you are ever in their neighborhood.)
And Joe will tell you, on the other side of their fence, is the neighbor lady who hangs out in her bikini...:0
Thanks guys for a really nice visit...we had a great time.