Wednesday, August 22, 2007
Friday, August 17, 2007
Well, we all went down to the Lynden Fair on August 14, where Nicki was to sing the Canadian and American Anthems. She performed at 1pm and 6pm, just before the horse shows.
She did a GREAT job despite a few speaker and microphone problems. She is showing she knows how to hold it together when things don't go completely right.
Thanks to many of our friends who came to watch her. It was fun to see each of you. Some we hadn't seen in soooo long! Grandma and Grandpa...sure did appreciate your lunch and help with Ryan...:) Thanks to Dani for taking pictures so I could nervously video Nicki! You took some great ones for me...see below:
Here is Ryan saying, "My sister is #1!!"



Ryan waiting patiently:


Here are some Nicki pictures: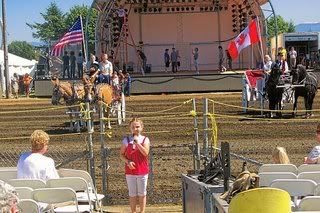 Nicki and her nervous MOM...:)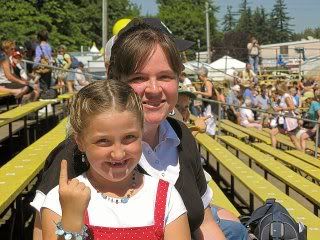 Joey was very excited that later, he got to meet the Black Night! Look at the smile on this boy...


Joey had asked the Black Knight, "How come you never won today?"
To which the mean, ugly Black Knight replied: "Well, I just had a bad day. I guess it is because I didn't get enough sleep last night and I didn't eat my vegetables today. I should have eaten my broccoli."
Joey, wide eyed, said, "Really??"

And...He got to enjoy lots of rides too...:)

Posted by Nicki Meier at 2:07 PM 2 comments

Friday, August 3, 2007
Here are a couple pictures of Joe working with Tony today...On the right of the page is a video of him milking. (If you have dial up, it takes awhile to download, but will work after awhile.)
Here is Joe standing by the milk tank:



Joey and his hero...DAD.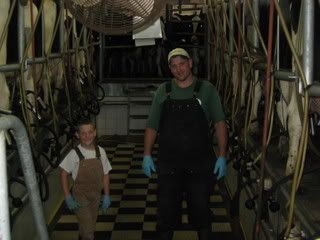 Posted by Nicki Meier at 7:34 PM 2 comments